Get Social Distancing Signs & Banners to Help Your Business Follow Guidelines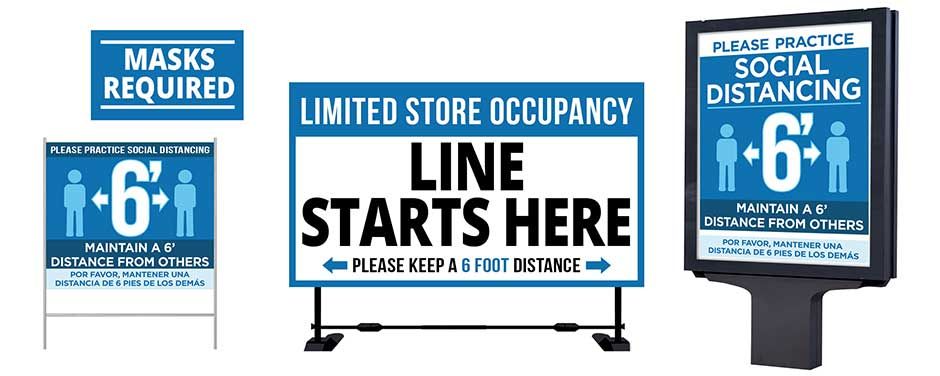 Social distancing signs and signage are important items to have in and around your business location. They help direct clients and customers and keep everyone safe. We are here to help you reinforce social distancing rules and meet requirements.
We can produce custom social distancing signs and signage that are specific to your needs. There are many helpful items to choose from and the below list is a good start. Contact your local center using our store finder and ask about all of our social distancing products, services, and solutions to help you stay safe.
Social distancing a-frame signs / sandwich boards – display these signs right outside your business location and state any rules or options for customers. These are great to let customers know you are open, to direct them to curbside pickup options, and to reinforce any social distancing rules you have at your location.
Social distancing banners & retractable banners – use these banners to provide essential social distancing information to your customers when they are inside your location and lobby area or doing business outside. We will produce custom banners with your logo and branding to make these look professional and official.
Social distancing directional signs – combine directional signs with social distancing floor graphics and decals to make sure people know where to go and are following proper safety guidelines. 
Social distancing yard signs – perfect for practicing safe social distancing on different work sites including residential homes. These signs are great for landscaping companies and real estate agencies as well to make sure social distancing is followed on site.
In addition to social distancing signage, we offer social distancing posters, banners, decals, floor graphics, wall graphics, window clings, and more!
We are here to help you run your business in a safe and effective manner that follows social distancing guidelines. We are a local business who supports all local businesses and we know we are in this together!
Remember that social distancing saves lives! Stay safe and we are here to meet all of your needs for social distancing sign and printing needs. Custom orders are welcome!
Ask us about our free CDC posters to help stop the spread today!
We are your one stop shop for all your printing needs.